---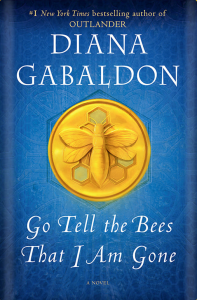 GO TELL THE BEES THAT I AM GONE officially went on sale on Tuesday, November 23, 2021!
For those folks who like chapter titles, here they are for BEES:
Part I
A Swarm of Bees in the Carcass of a Lion
1: The MacKenzies Are Here
2: A Blue Wine Day
3: Rustic, Rural, and Very Romantic
4: The Women Will Ha' a Fit
5: Meditations on a Hyoid
6: Home Is the Hunter, Home from the Hill
7: Dead or Alive
8: Visitations
9: Animal Nursery Tales
10: Parsley, Sage, Rosemary and Thyme
Part II
No Law East of the Pecos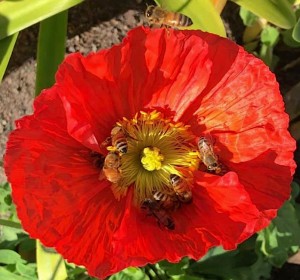 11: Lightning
12: Erstwhile Companions
13: "What is not good for the swarm is not good for the bee" (Marcus Aurelius)
14: Mon cher petit ami
15: Which Old Witch?
16: Hound of Heaven
17: Reading by Firelight
18: Distant Thunder
19: Daylight Haunting
20: I Bet You Think This Song Is About You . . .
21: Lighting a Fuse
22: Ashes, Ashes . . .
23: Trout-fishing in America, Part Two
24: Alarms by Night
25: Voulez-vous coucher avec moi
26: In the Scuppernongs
27: Cover Her Face
28: Math-ghamhainn
29: Remember, Man . . .
30: You Should Know . . .
Part III
The Beesting of Etiquette and the Snakebite of Moral Order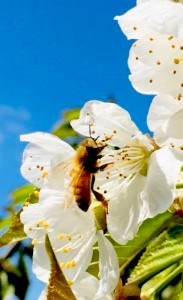 31: Pater familias
32: Lhude sing cuccu!
33: Spoilt for Choice
34: The Son of a Preacher-man
35: Ambsace
36: What Lies Unseen
37: Maneuvers Beginning with the Letter "V"
38: Grim Reaper
39: I Have Returned
40: Black Brandy
41. Awkward Sod
42. Sasannaich Clann Na Galladh!
43. The Men Ye Gang Oot With
44. Beetles With Tiny Red Eyes
45. Not Quite Like Leprosy
46. By the Dawn's Early Light
47. Tace is the Latin for a Candle
48. A Face in the Water
49. Your Friend, Always
50: Sunday Dinner in Salem
Visit my GO TELL THE BEES THAT I AM GONE webpage for more information about this new book, the ninth major novel in my OUTLANDER series of major novels featuring Jamie and Claire. And the BEES webpage gives you access to the more than 100 excerpts I have posted.
---
Thank You to Pam Onasch, who sent me the lovely top photo of bees having a pollen party in a poppy—and to her brother, who took the picture!
And Many Thanks to Jaimee Butters for the lovely bee photo! (bottom image)
---
This blog entry was last updated on Friday, November 26, 2021 by Diana Gabaldon or Diana's Webmistress.