---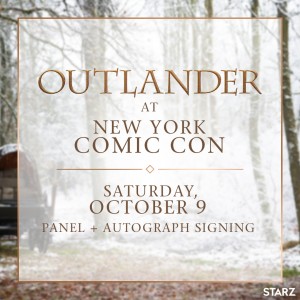 LATE BREAKING NEWS: Are you going to New York Comic Con (NYCC) in a few days?
I'll be there in person for a panel and autograph session along with Maril Davis and Sam Heughan from the Starz Outlander television show!
On Twitter, NYCC recently announced:
Diana Gabaldon, Maril Davis and Sam Heughan are joining us IN-PERSON for the "OUTLANDER Season Six Takes NYCC" panel… & they want to meet YOU.
Joining virtually will be Caitriona Balfe, Sophie Skelton, Lauren Lyle, Cesar Domboy, & John Bell.
This panel will take place on Saturday, October 9, 2021 from 11 a.m. to noon on the Empire Stage.
Outlander Panel Description: "Travel through the stones of Craigh na Dun and go back in time with the cast and executive producers of OUTLANDER as they take on New York Comic Con in support of the sixth season, premiering early 2022. Don't worry, we'll make sure to get you back to your own time."
A paid membership is required to attend the panel in person or digitally via virtual membership. To buy in-person badges and passes or digital passes, go to the NYCC webpage at:
https://www.newyorkcomiccon.com
and click on the blue "Badges" button. Information on other guests attending the convention, including William Shatner, George Takei and many others is on the NYCC webpages.
An additional charge and separate advance reservation is required for the Outlander in-person autograph session. Fans who already have in-person passes for October 9 may register for autograph passes for Outlander (with Maril Davis, Sam Heughan and me) at http://NYCC21.com/Reservations.
NYCC in 2021: In-person and Virtual
New York Comic Con, an annual convention for fans of comics, movies, science fiction and fantasy will be held from Thursday, October 7 through Sunday, October 10, 2021 in New York, New York. This year NYCC will be a hybrid in-person attendance and also can be enjoyed virtually at home. The Javits Center will allow a limited capacity due to COVID-19. Those without in-person passes are able to purchase a digital ticket to enjoy the Outlander panel and other events.
Please consult the NYCC webpage for COVID-19 health guidelines for in-person attendees.
(Sorry that this was not organized and announced farther in advance by NYCC, likely due to the pandemic. Note that I as of October 5, I am not yet listed as a literary guest at NYCC.)