---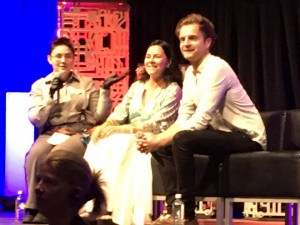 Had a fabulous weekend at the Denver Comic Con (and got to zip up to Ft. Collins and visit daughter, son-in-law, and incipient grandchild, which was lovely)!
Click on an image to view a larger version.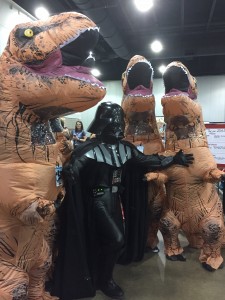 I did a panel (so to speak) with the delightful Andrew Gower (or, as he modestly styled himself, "Shortbread-biscuit Man"—i.e., Bonnie Prince Charlie in the Outlander TV show), and had a great time. Did a few other panels on things like complex villains, the process of adapting a book to the screen, integrating love and sex into fantasy and sf (didn't quite understand that one—I mean, either it's there or it's not; what integration?—etc.—and signed zillions of books, first for Del Rey (an arm of Penguin Random House, who are my publishers), and then twice for The Tattered Cover—the largest (I think) independent bookstore in the country (certainly in Colorado…), and a lovely establishment (they have two—or possibly three—stores in the Denver area, where I've done signings on many occasions). I signed all their leftover copies of SEVEN STONES as well, so there are at least a hundred signed copies of that book in stock—if you're still looking for an autographed copy, I mean.
Many thanks to the Denver Comic Con for a great weekend, and to all the wonderful writers, artists, and Tyrannosauri I met there!
(The new [Facebook] profile picture [below] is of me getting ready to leave my hotel room for the first day of the con.)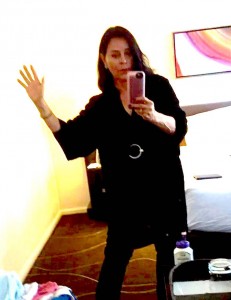 ---
This blog was posted on my official Facebook page on July 4, 2017. Also, my Webmistress adjusted the lighting in my Denver Comic Con selfie pic. The original may be found here.