---
From Thursday, June 1, 2017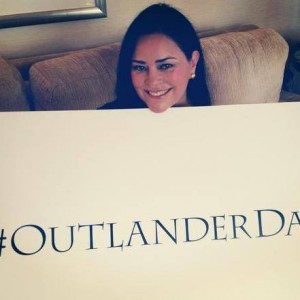 You know, if there's something you want to do… I think you should just go ahead and start doing it, and see what happens.
That's what I did, twenty-nine years ago. I thought I wanted to be a novelist, so I started writing a book…and here we all are, and what a long, strange trip it's been, to be sure…
Thanks so much to all of you who've been my companions on the journey, and here's to many miles before us!
---
Excerpt From OUTLANDER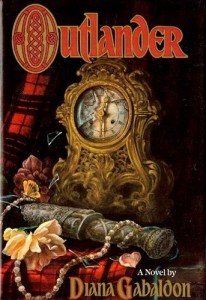 And in honor of World Outlander Day (evidently that's today—June 1st. Who knew…?) — here's a bit of one scene that's not in the TV show, but that the book readers know well…
Hashtags: #DailyLines, #OUTLANDER, #WaterWeed
I gasped as his groping hand found its way between my legs.
"Lord," he said softly. "it's slippery as waterweed."
"Jamie! There are twenty men sleeping right next to us!" I shouted in a whisper.
"They wilna be sleeping long, if you keep talking." He rolled on top of me, pinning me to the rock. His knee wedged between my thighs and began to work gently back and forth. Despite myself, my legs were beginning to loosen. Twenty-seven years of propriety were no match for several hundred thousand years of instinct. While my mind might object to being taken on a bare rock next to several sleeping soldiers, my body plainly considered itself the spoils of war and was eager to complete the formalities of surrender. He kissed me, long and deep, his tongue sweet and restless in my mouth.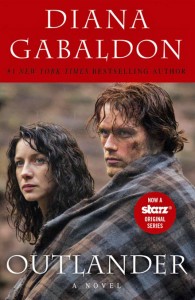 "Jamie," I panted.. He pushed his kilt out of the way and pressed my hand against him.
"Bloody Christ," I said, impressed despite myself. My sense of propriety slipped another notch.
"Fighting gives ye a terrible cockstand, after. Ye want me, do ye no?" he said, pulling back a little to look at me. It seemed pointless to deny it, what with all the evidence to hand. He was hard as a brass rod against my bared thigh.
"Er… yes… but…"
He took a firm grip on my shoulders with both hands.
"Be quiet, Sassenach," he said with authority. "It isna going to take verra long."
Images above at right: cover art for the first edition hardcover of OUTLANDER in the U.S.A. (top), and the cover for the paperback reissue featuring the Starz Outlander TV series, with actors Sam Heughan and Catriona Balfe.
---
From Sam and Catriona
A nice greeting/wish for Happy Outlander Day from the South African contingent!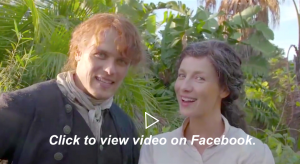 The video above is located on the Starz Outlander TV series Facebook page. You will need to be logged into Facebook (if you have a Facebook account) or join Facebook (create a new account) to view the video. Those options should appear when you click on the image. And please keep in mind that this video may not be available in all viewing areas or countries.
---
Entries in this blog were first posted on my official Facebook page on June 1, 2017.
---