Schmoozing in L.A….
So— I had a wonderful time at the Word on the Lake writers festival in Salmon Arm, British Columbia (photos at left and below). Worked like a dog, but that's normal for such events. <g> I gave two keynote speeches, taught three workshops (on Characterization, How to Make Them Turn the Page (a useful skill, when you write 900-page books), and How to Write (and How _not_ to Write) Sex Scenes. And a panel on how to carve a "writing cave" out of chaos— i.e., making time to write, which is pretty basic, but always fun to hear what everybody's methods are. (Mine is to work in the middle of the night.)
But then, instead of going home, I flew directly to Los Angeles. And for why?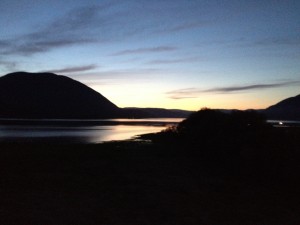 Well, it was "Screening week"— during which international television buyers flock to Los Angeles to see previews of all the new TV shows. Sony (which owns the international rights to "Outlander") was screening their new lineup, of course, and invited Ron D. Moore (Executive Producer of the new Outlander TV series) and me to come and do "up-fronts" (the hairdresser who came to do my hair prior to an interview told me that's what they're called; it just means we go out onstage before the preview is shown, and answer a few questions put to us by a moderator—takes about ten minutes) and attend cocktail party-dinners with the international clients. This is actually somewhat more work than one might think <g>— but it _was_ fun.
A car picked me up at the hotel every afternoon (some days I was doing outside interviews in the mornings, other days, mornings were free. I walked from my hotel to the La Brea tar pits (the Page Museum) on Wednesday morning, and all over downtown Beverly Hills on Thursday), and took me to the Sony lot.
I'd hand my driver's license to the guard at Gate 3 and tell him I'm going to Stage 22. The driver takes me down a narrow street to where there's a lane of grey indoor-outdoor carpeting, edged with elegant tables and white umbrellas, with a reception counter at the front. Here I disembark, chat with the nice people manning the counter— their job is to check in visitors, hand out VIP badges, and give people gifts as they leave (the gift is an international power adapter; they gave me one the first day, and keep offering me more— three of the four receptionists are OUTLANDER fans already, having read the book, and the other is a nice young man who compliments my fashion <g>— but I think one adapter is plenty, really), and walk down the lane, either to Stage 22 itself, or to the restrooms, which are in a big trailer discreetly parked behind a hedge at the end of the lane.
The little tables along each side, under the umbrellas, are bountifully equipped with drinks: huge silver samovars of coffee, military ranks of San Pellegrino Aranciata and Aranciata Rosso (delicious carbonated orange and blood-orange juice drinks) in bottles, arrayed with Diet Coke (yay), Coke, and a lot of stuff I didn't take notice of because I don't drink it. Between screenings, viewers come out here to enjoy the fresh air (it was pretty fresh on Tuesday and Wednesday; winds high enough that they had to take down the umbrellas) and have a refreshing beverage.
You enter the stage through a sort of refrigerator-style airlock (save that the doors are made of heavy, crude planks painted yellow), and find yourself in a big, dark space. Just ahead is a half-lighted waiting-lounging area, with comfortable small couches along one side, and a table with bags of fresh popcorn along the other. At the far end of this space is the green room— a curtained off chunk of space with two small couches, three tea-coffee samovars, and more substantial snacks: little bags of high-end trail-mix (pistachios, dried figs and white-chocolate disks), a platter of crudités, bags of pretzels, and a big plate of miniature cupcakes. Not wanting to go onstage with cake-crumbs in my teeth, I nibbled daintily on the pistachios and white chocolate.
The main part of the huge room is a viewing theater, curtained off from the waiting area/green room/backstage. It's the size of a regular theater, but the seating is huge, very comfortable couches, capable of seating six in a pinch—but generally occupied by only two or three people each. Each couch is also liberally supplied with small pillows, and the viewers are given warm, soft blankets, because the place is cold (God forbid any of the potential buyers — because that's who the viewers are — should get uncomfortable and leave a screening halfway through).
So now I've set the scene, and it's 4:16 a.m.— which is my normal bedtime. So I'll leave you here for the moment and tomorrow, will tell you what it was like to see the complete first episode of OUTLANDER on a movie-sized screen, complete with Bear McCreary's soundtrack (and enough amplification that you could feel the bodhrans in your bones).
Click here to continue and read part 2 of this blog,"Schmoozing in LA, Part 2 – Episode 1!"