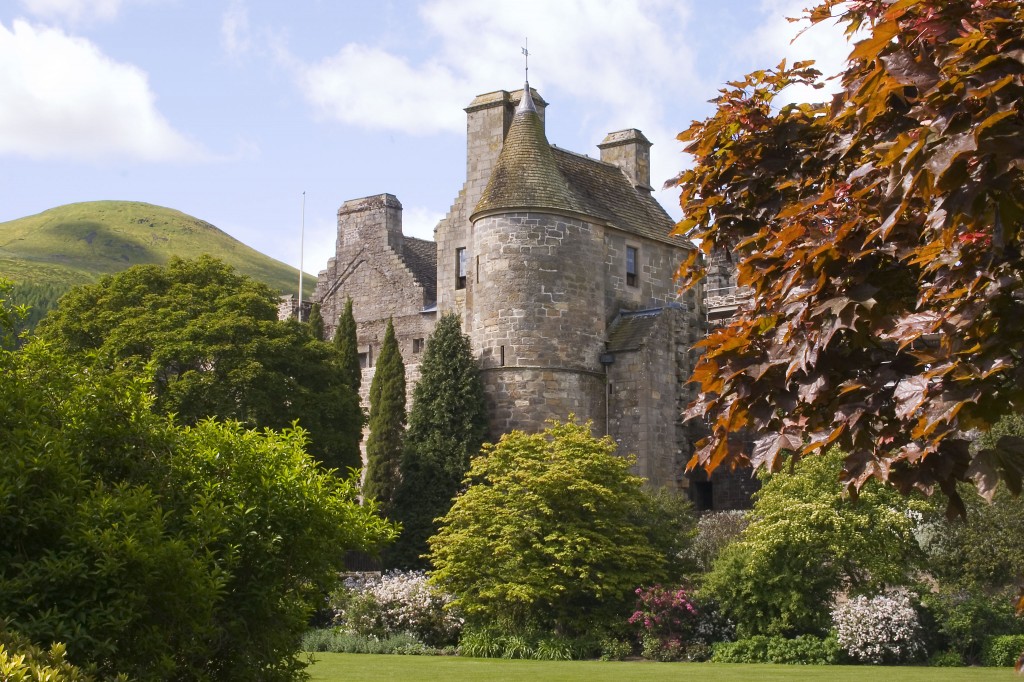 I get a _lot_ of mail and messages from people saying that they're planning a trip to Scotland—where should they go, and what should they see?
Well…there's a _lot_ of Scotland to see, but what you see and with whom might vary a lot. I thought I'd do various posts this month (and probably some of next) about different ways to visit Scotland, and Things You Might Like to See.
The first choice is perhaps: go solo, or with a tour? Scotland is an extremely tourist-friendly country, and it's not at all difficult to get around and see an enormous amount by yourself. On the other hand, going places with a guide or a group can offer you a lot, too: less risk of getting lost , good company, decent meals, comfortable and efficient travel, and a fair amount of fascinating information about what you're looking at.
Now, I don't run tours myself—when would I find the time?—and I have No Financial Connection whatever with any tour group or guide. That said, I do _know_ several very good and reputable tour guides and operators, and I'm more than happy to give them a little exposure here, for your and their mutual benefit. [g]
Several of these guides are listed on my website (they're under the tab labeled "Resources").
http://www.dianagabaldon.com/resources/outlander-based-tours-of-scotland/
Some of these operators have recently updated their material, and I have a couple of new ones to add. I thought I'd introduce them to you, and as we go on, add information on specific places (such as Castle Leod) that you might like to go either with a tour/guide or if traveling alone.
Let's start with Lord Jamie Sempill, who is now working in conjunction with Alistair Cunningham's ClansandCastles group (this is on the webpage), but is offering his own specialized tour dealing with the life, times, and places of Mary, Queen of Scots. See below for Jamie's account of his first tour, and his contact details!
[That's Falkland Palace above, btw—one of the stops on the Mary, Queen of Scots tour.]
The Inaugural Mary Queen of Scots tour.
by Lord Sempill
The inaugural tour was a great success, with the notable exception of the weather, which decided in memory of Mary to replicate her arrival in Leith some 450 years ago. Grey, misty and wet.
In fact, so bad were the conditions that we arrived at Edinburgh Castle to find it closed on account of the conditions. Fortunately, the Museum of Scotland is close by, and provides a wonderful insight into her reign plus allowing sufficient time for the Castle to re-open. Bad weather, however, is good for team spirit, and adds to the sense of adventure. So by the time we toured Holyrood Palace and had been told the tale of Rizzio's bloody murder, the dark rain filled sky had provided the perfect backdrop.
The following day saw us in the Borders, where the dreak [DG - that's how it's pronounced; you usually see it spelled "dreich".] weather had decided to park itself for the day. The Mary Queen of Scots House in Jedburgh is a real gem. It is dedicated to her memory and has been open to the public since 1930. One of the rooms has painted panels of all the key players in her reign, which helps in putting faces to the names which crop up throughout the tour. It is also a great example of a 16th century tower house, which stands as a good contrast to the castles and palaces where she lived.
It is incredible to think that during her very short reign she travelled over 1200 miles and stayed in 80 different properties. One of which, Traquair House, was our lunch time destination. This house is still lived in by the Maxwell-Stuarts, whose ancestor was the Captain of Queen Mary's Royal Guard. The group, by now enjoying a rapidly clearing sky, was met by Catherine, the current Mistress of Traquair. It is Scotland's oldest inhabited house and boasts its own brewery and chapel.
Craigmillar Castle sits on the outskirts of Edinburgh in a district known as Petit France, on account of the number of French who lived in the area at the time of her reign. It was here that a group of her advisors decided that Darnley, by now a major political embarrassment, had to be removed. The Craigmillar bond is said to have been agreed to by Mary, but the document has never been found. The castle is a well maintained ruin and has a great view of both the city and the coastline. It is also very close to the Sheep's Heid , Scotland's oldest inn, and the perfect place to end the second day.
The final day started with a 10 minute boat trip on one of the country's largest bird sanctuaries. We were blessed with clear blue skies and no wind. Loch Leven is probably more closely associated with Mary, than all the other properties bar Holyrood. She was held captive here for nearly a year during which time she had a miscarriage and was forced to abdicate her throne.
Falkland Palace is by contrast a far more inviting location. We had the great advantage of being guided by Lindsey Fowell, a member of the Marie Stuart Society. She was dressed as Mary and plays the role to perfection. The chapel is very special, and is still open to the local community. The palace also has the advantage of being well looked after and is still lived in by the Crichton-Stuart family, the hereditary Keepers of Falkland Palace.
The group's last visit was to Stirling Castle, which recently won the award for the most popular tourist destination in Scotland. The restoration of the castle by Historic Scotland has been a major achievement and is very much the icing on the cake as far as the tour is concerned. The great advantage is that the restoration takes us back to what it would have looked like during her reign. This helps to show the power of the Stuarts and the impact of the renaissance on Scotland, all of which is greatly enhanced by the performance of the guides dressed in contemporary costume. They are a real tour de force.
Over dinner that evening, which I hosted in my home, it was quite apparent that the tour had been a great success. Importantly, it had been entertaining whilst informative. One of the group, Pauline, who lives on the isle of Skye, had really enjoyed seeing a part of Scotland that she had only ever driven through. I believe that key to the success of the tour had been how well the group had enjoyed each other's company.
It was the first time I had run the tour, and I really enjoyed it. The fact that my family had had been party to many of the events that occurred during her reign, enabled me to provide a personal view, albeit with a small touch of poetic licence!
So if you are interested in knowing more about sixteenth century Scotland and the reign of Mary Queen of Scots, call at www.clansandcastles.com/mqs, where you will find all the appropriate information about the tour.
Jamie Sempill