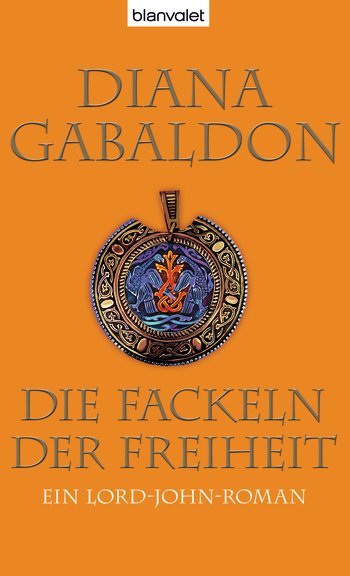 The German version of THE SCOTTISH PRISONER (now called, for some inscrutable German reason, DIE FACKELN DER FREIHEIT ("The Torches of Freedom". Don't ask me, I have _no_ idea…)) is now out!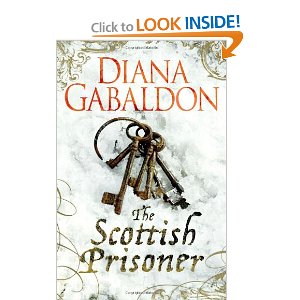 And…the trade paperback edition of THE SCOTTISH PRISONER is now out in the US and—I hope—Canada!
IF you'd like a signed copy (of either of these, or anything else, for that matter [g])…please go to www.poisonedpen.com. You can order any of my books there, and if you'd like a signature or personal inscription, just note that in the "Instructions" box on the order page. (If you're looking for one of the foreign editions, you may need to email patrick@poisonedpen.com. They do have a few non-English editions of this and that, but I don't think these are listed on the website.)
Hope you'll enjoy THE SCOTTISH PRISONER, in the language of your choice! [g]
THE SCOTTISH PRISONER
Copyright 2011 Diana Gabaldon
John Grey leaned against a tree, a little distance away, enjoying the sense of temporary invisibility. He'd wondered how he'd feel, seeing Jamie Fraser in the flesh again, and was relieved to find that the episode in the stable at Helwater now seemed sufficiently distant that he could put it aside. Not forget it, unfortunately, but not have it be uppermost in his mind, either.
Now Fraser bent his head to one side, listening to something said to him by a thin, curly-headed man beside him, though without taking his eyes off the stage. The sight of the curls brought Percy briefly to mind, but Percy, too, was in the past, and he shoved the thought firmly down.
He hadn't consciously thought what he'd say, or how he might start the conversation, but when the play ended, he found himself upright and walking fast, so as to come onto the path slightly in front of Fraser as he turned back toward the edge of the park.
He had no notion what had led him to do this, to let the Scot make the first move, but it seemed natural, and he heard Fraser snort behind him, a small sound with which he was familiar; it signified something between derision and amusement.
"Good afternoon, Colonel," Fraser said, sounding resigned as he swung into step beside Grey.
"Good afternoon, Captain Fraser," he replied politely, and felt rather than saw Fraser's startled glance at him. "Did you enjoy the show?"
"I thought I'd gauge how long my chain is," Fraser said, ignoring the question. "Within sight o' the house, is it?"
"For the moment," Grey said, honestly. "But I did not come to retrieve you. I have a message from Colonel Quarry."
Fraser's wide mouth tightened involuntarily.
"Oh, aye?"
"He wishes to offer you satisfaction."
"What?" Fraser stared at him blankly.
"Satisfaction for what injury you may have received at his hands," Grey elaborated. "If you wish to call him out—he'll come."
Fraser stopped dead.
"He's offering to fight a duel with me. Is that what ye're saying?"
"Yes," Grey said patiently. "I am."
"Jesus God." The big Scot stood still, ignoring the flow of pedestrians—all of whom gave him a wide, side-glancing berth—and rubbing a finger up and down the bridge of his nose. He stopped doing this and shook his head, in the manner of one dislodging flies.
"Quarry canna think ye'd let me. You and his grace, I mean."
Grey's heart gave a slight jerk; Christ, he was thinking about it. Seriously.
"I personally have nothing to say regarding the matter," he said politely. "As for my brother, he said nothing to me that indicated he would interfere." Since he hadn't had a chance. Christ, what would Hal do if Fraser did call Harry out? Besides kill Grey himself for not preventing it, that is.
Fraser made a thoroughly Scotch sort of noise in his throat. Not quite a growl, but it lifted the hairs on Grey's neck, and for the first time, he began to worry that Fraser just might send back a challenge. He hadn't thought—he'd thought Fraser would be startled by the notion, but then—he swallowed, and blurted,
"Should you wish to call him out, I will second you."
Whatever Fraser had thought of Quarry's original offer, Grey's startled him a good deal more. He stared at Grey, blue eyes narrowed, looking to see whether this was an ill-timed joke.
His heart was thumping hard enough to cause small sparks of pain on the left side of his chest, even though the wounds there were long since healed. Fraser's hands had curled into fists, and he had a sudden, vivid recollection of their last meeting, when Fraser had come within a literal inch of smashing in his face with one of those massive fists.
"Have you ever been out—fought a duel, I mean—before?"
"I have," Fraser said shortly.
The color had risen in the Scot's face. He was outwardly immobile, but whatever was going on inside his head was moving fast. Grey watched, fascinated.
That process reached its conclusion, though, and the big fists relaxed—consciously—and Fraser uttered a short, humorless laugh, his eyes focusing again on Grey.
"Why?" he said.
"Why, what? Why does Colonel Quarry offer you satisfaction? Because his sense of honor demands it, I suppose."
Fraser said something under his breath in what Grey supposed to be Erse. He further supposed it to be a comment on Quarry's honor, but didn't inquire. The blue eyes were boring into his.
"Why offer to second me? D'ye dislike Quarry?"
"No," Grey said, startled. "Harry Quarry's one of my best friends."
One thick, ruddy brow went up.
"Why would ye not be his second, then?"
Grey took a deep breath.
"Well…actually…I am. There's nothing in the rules of duello preventing it," he added. "Though I admit it's not usual."
Fraser closed his eyes for an instant, frowning, then opened them again.
"I see," he said, very dry. "So was I to kill him, ye'd be obliged to fight me? And if he killed me, ye'd fight him? And should we kill each other, what then?"
"I suppose I'd call a surgeon to dispose of your bodies and then commit suicide," Grey said, a little testily. "But let us not be rhetorical. You have no intent of calling him out, do you?"
"I'll admit the prospect has its attractions," Fraser said evenly. "But ye may tell Colonel Quarry I decline his offer."
"Do you wish to tell him that yourself? He's still at the house."
Fraser had begun to walk again, but stopped dead at this. His gaze shifted toward Grey in a most uncomfortable way, rather like a large cat making a decision regarding the edibility of some small animal in its vicinity.
"Um…if you do not choose to meet him," Grey said carefully, "I will leave you here for a quarter of an hour, and make sure that he is gone before you return to the house."
Fraser turned on him with such sudden violence as to make him steel himself not to step backward.
"And let the gobshite think I am afraid of him? Damn you, Englishman! Dare ye to suggest such a thing? Were I to call someone out, it would be you, mhic a diabhail—and ye know it."
He whirled on his heel and stalked toward the house, scattering loungers like pigeons before him.