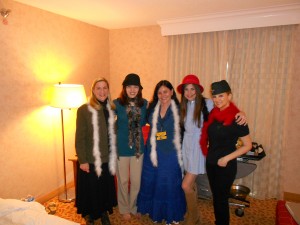 Andrius, the nice Almalittera publicist who organized my appearance at the Vilnius Book Fair, met me at the airport and drove me into the city to my hotel, the Radisson in the Old City (there's a New City, too, but I saw very little of this). Vilnius is an old (founded in 1527) Eastern European city, only twenty years free of Soviet occupation; it's a little worn around the edges. At the same time, there's a lot of evidence of vitality; a lot of new shops, and a large number of Extremely Well-kept churches. Vilnius has a lot of churches—at least fifty, Andrius told me—and a number of these are Russian Orthodox, some with onion domes. We passed one of these on the way in from the airport—with about a dozen large domes, all newly upholstered in brilliant kelly-green weather-proofed panels; it looked like a patch of Irish toadstools.
The Soviets had closed down all the churches during the occupation, I was told, using them for storage, stabling, and other purposes. Most of the churches had been re-opened and restored, with one exception: we passed a huge building on the crest of a hill, surrounded by a tall fence topped with barbed wire, and a big central dome protruding above this. I asked what this was, thinking that perhaps it was a church still being restored, but was told it was a prison. That is, it was originally a church, but the Soviets had used it as a prison, and it was still used for that purpose—until a new prison could be built elsewhere.
Having just about survived the trip to Vilnius, I got to my hotel and had about four hours before the first official event—dinner at the residence of the US Ambassador to Lithuania!
OK. So far I've been in a lot of interesting situations, but a diplomatic dinner has not been among them. What the heck does one wear to dine with an ambassador?
I applied logic to the situation and deduced that I was probably not the only guest; the Ambassador must be hosting whatever other American authors were coming to the Book Festival—all of whom had the same limitations of luggage that I had. Also, the dinner was at her residence, not at the embassy…ergo, probably a more casual affair. Aha. Black pants should meet the case, with my good boots (yes, I still have the German bondage boots with the chains, but hadn't brought them on this trip) and something dressy on top. That was a lovely hand-painted, fringed velvet jacket, given me by a group of fans some years before. (When he first saw it, my husband paused for a moment, then said, "Why have they given you a jacket covered with sperms?" [ahem] It is, of course, covered with peacock feathers, but I will admit a passing resemblance to multicolored spermatozoa. Luckily, if the ambassador noticed this, she was too diplomatic to mention it.)
Andrius picked me up, along with the other two American authors, Ruta and Ina, Ruta's editor, and another person named Ruta who was from the publishing company (Ruta is a very popular Lithuanian name; it means "Ruth"), and delivered us to the Ambassador's residence on the banks of the Neris River. Two weeks before my arrival, temperatures had been thirty degrees below zero, and there was a fair amount of snow on the ground. Now the weather had warmed up considerably, and the evening was punctuated by frequent thundering crashes as mini-avalanches cascaded off the roof.
The US Ambassador to Lithuania is the charming and impressively competent Ann Derse, who—with her husband and her dog (a black Lab retired drug-sniffer from Customs named Tracy)–made us all welcome. "Us all" included the three American writers (me, Ruta Sepetys, who is the elegant blond lady in the photo above, and another woman whose last name I unfortunately didn't catch, but her first name was Ina, which I'm sure helps a lot), several hosting publishers, and several members of the local intelligentsia (really, they were introduced that way, which caused me to wonder if a single one is an intelligentsium or merely an intelligentsi, and what people would think if you put that on your business card…), including a very nice journalist from a Lithuanian magazine on current affairs, a Swedish film-maker (who lives in Vilnius part-time), a writer with several nonfiction books about the Holocaust to his credit, and a gentleman with the impressive title of Executive Director for the Commission on Nazi/Soviet War Crimes. Obviously, this was going to be a Serious-minded Occasion.
It was, too. After wandering around a bit with wine-glasses in hand, introducing ourselves to each other (several guests came up to me and began talking in Lithuanian—something that happened throughout my visit. Evidently I look like a Lithuanian; who knew?), we all processed in to dinner—very elegant, with diplomatic white and gold china, stamped with the US shield-and-eagle logo, and little menu cards explaining what the food was going to be. (Explanation not really needed; salad with brie and sliced almonds, roasted salmon with capers and kalamata olives (in a divine butter sauce—this was Utterly Delicious—and quite fortunate, as it was Ash Wednesday and I couldn't have eaten meat (had slight trouble with deciding when to start fasting for Ash Wednesday, owing to the air travel crossing time zones, but I was pretty hungry by the time we got to dinner)—and fruit salad (which nobody ate) for dessert).
Before the food, we each introduced ourselves, and told a bit about what we did. Ruta Sepetys has written a wonderful book (BETWEEN SHADES OF GRAY), a YA novel based on the experiences of her relatives during the Soviet occupation. (When the soldiers came round to arrest her grandfather and found him gone, they promptly arrested the rest of the family and deported them to Siberia, where a good many of them died), Ina is a journalist who'd written up a collection of Holocaust accounts from Lithuanian survivors, the rotund gentleman across the table (whose name I didn't catch) had also done both books and movies dealing with genocide and related subjects ("I couldn't sleep more than one night in three while working on [a particular book]," he told us), the Swedish film-maker had done a film called "The Forest Brothers," about Lithuanian fugitives hiding in the woods during the occupation, and the Executive Director of the Commission on Nazi/Soviet War Crimes didn't really require a whole lot of explanation. It was an Extremely Interesting dinner, and I learned more about the recent history of Lithuania in a couple of hours than I would have in several years of independent study. Emerged _very_ impressed at the determination and resilience of the Lithuanian people.
Oh, me? I was the comic relief. Not that I was _trying_ to be funny, but when I explained what I wrote and how I began writing—i.e., about "Dr. Who" and the man in the kilt, they rolled on the floor. (N.B.: I did _not_ tell the companion anecdote about the German journalist and the appeal of a man in a kilt; didn't seem the time or place [delicate cough].)
And the evening was still the (Very Long) first day. I don't usually have bad jet-lag, partly because I sleep at the drop of a hat, so snooze on and off through the flights, but also because I just keep my normal rhythm upon landing—I may collapse in a heap come bedtime, but I'll feel fine the next day. So that's what I did. And in Part 3, we'll hear about Vilnius University, being made up in a foreign language, Vilma the interpreter, Lithuanian shopping malls, the Book Fair, basketball mania, and more amber than you could shake a stick at. Also, if I can figure out how to get it out of my Flip-it, a grossly inept video travelogue of Piliesas Street, main drag of the Old City of Vilnius.
• The photo above was _not_ taken in Vilnius, but in a hotel room in Tucson, Arizona, during the Tucson Festival of Books, earlier this month. I included it because it has both me and Ruta Sepetys in it, she having also come to the TFOB. The other ladies present are (from left to right) Kristina McMorris, Sarah McCoy, and Jenna Blum, and we were gathered together in order to do a Skype appearance for a church book-club, because we all had written things having to do with WWII (my modest claim to this historical period being a (more or less) short story titled "A Leaf on the Wind of All Hallows," which is to do with Roger MacKenzie's parents, Jerry and Dolly.
• I did tell the church-people the anecdote about the German interviewer and the appeal of a man in a kilt—but only because they asked.