Dear Guys–
Many of you will know Mike Gibb as the lyricist (and original inspiration) behind OUTLANDER: The Musical, and will have enjoyed his wonderful songs. A hard-working and compassionate man, he's also one of the chief supports of Bianca, a lovely (and vital) charity for abandoned pets. I was very impressed, hearing about them, and so I've offered to put up here his description of Bianca and their work.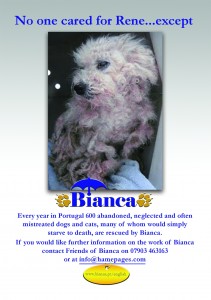 While on holiday in Portugal Mike Gibb (Outlander The Musical) was horrified by the many stray and abandoned dogs, most of whom displayed horrific signs of neglect, mistreatment and starvation, and shocked by the fact that there was no one to care for them except charities run by volunteers such as Bianca. And so on his return home he decided to set up Friends of Bianca a group established with the sole purpose of raising awareness of and funds for Bianca throughout the English speaking world. Every penny donated through Friends of Bianca will go directly to the charity in Portugal.
To explain, Bianca is a Portuguese charity that rescues, treats, cares for and then re-homes stray and abandoned dogs and cats. Many of the animals, which are left in the streets to fend for themselves or found tied or chained the fence of the Bianca compound, have suffered severely though neglect and abuse and, without Bianca, would starve to death or die of treatable diseases. Established in 2002 in Sesimbra, south of Lisbon, and run solely by volunteers, Bianca now takes 600 animals into its care. Every year. The shelter currently looks after 250 dogs and 30 cats and re-homes the animals both locally to responsible owners and through a network of animal associations in Northern Europe.
If you would like to support Bianca's remarkable work you can do so by becoming a "God Parent" or simply through a donation.
About one third of the animals in Bianca's care cannot be re-homed because of their age or ill health or simply because they are just too shy. Irrespective of where you live you can become a god parent to one of these animals. For (a minimum of) 2.50 Euros/ £2.50/ US$ 4.00 a month you can foster one of these dogs or cats, safe in the knowledge that your money will be used to buy food, pay veterinary bills and generally ensure that the animal concerned lives out the remainder of its days, loved and cared for. As a god parent you will receive a photograph of your new friend and your name will appear alongside the respective dog or cat on the website. To see the dogs available for fostering go to www.bianca.pt/english and click on "DOGS FOR FOSTERING" in the right hand column. Once you have chosen, contact Mike at info@hamepages.com.
Alternatively if you simply want to donate you can do so by sending money to info@hamepages.com through the Friends of Bianca Paypal account. If you are unsure of how to do that, just email Mike.
And if you have a moment to spare, check out this video on You Tube which shows how kindness, care and compassion can redress the worst excesses of the evil that humans can inflict on defenceless creatures.