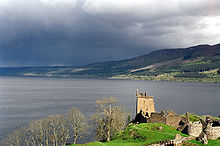 I don't know why _I_ never see naked men emerging from bodies of water. Not looking at the right moment, I suppose.
Doug and I had a lovely dinner on the 19th at Castle Stuart (which sort of has to be seen to be believed), with Alastair Cunningham and his merry tour group of Australians, all of whom _had_ been looking at the right moment, earlier in the day, when they paused to have a look for Nessie and instead beheld a local gentleman emerging from the loch "in all his glory," as one lady put it. "I couldn't believe it; it was only _that_ long!" (fingers held about two inches apart). (Well, Loch Ness _is_ very cold, after all.)
The one drawback to Castle Stuart is its internet connections; as the castle was built in 1625, it's rather impervious to modern wiring (though they did somehow manage to do remote-controlled fires. Really—you point a little box at the fireplace and poof! Fire. Push the button and it burns higher, push the other one and it burns lower. Click again, and poof! It goes out).
After leaving Castle Stuart, we took up with independent tour guide Hugh Allison (whom I met many years ago, when he was working at the Culloden Battlefield Visitor Centre) for a four-day journey around the north and west of Scotland, to places we'd never been. And _what_ places!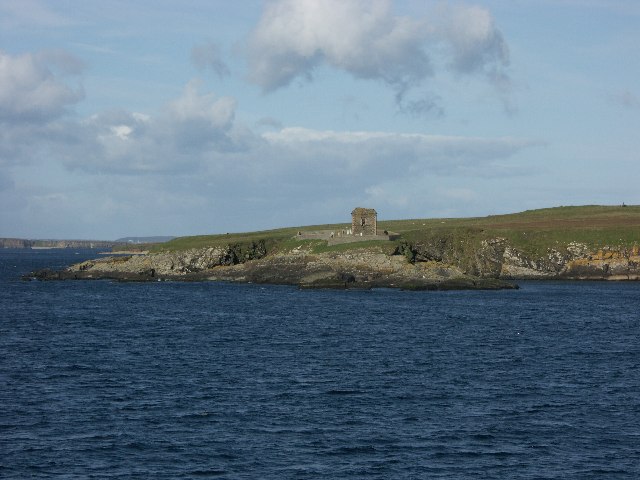 [Isle of Stroma - image from Wikipedia]
Orkney, for one. We took the ferry from the mainland, going past the Isle of Stroma—where the entire population emigrated en masse in the 1960′s, leaving their houses deserted. Eerie place, but well populated with puffins, who whirled off the island like a hurricane of fish-eating autumn leaves, some couple of thousand of them wheeling round the ferry, close enough to see their amazing bills.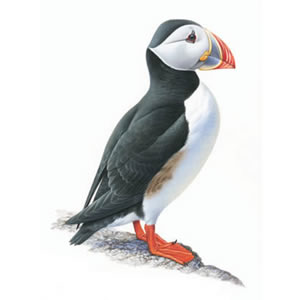 [Image courtesy of The Royal Society for the Preservation of Birds - www.rspb.org]
I'll tell you more about all the cool things we've seen—Skara Brae, the Ring of Brodgar, Maeshowe, etc.—but right now it's the middle of the night at Culloden House, and we're leaving in the morning to drive to Edinburgh (pausing to walk the battlefield at Sheriffsmuir on the way), and I wanted to post the information about Tartan Day in Aberdeen, coming up THIS SATURDAY!
Tartan Day, Aberdeen, Scotland Saturday 30 July
RED HARLAW Premiere of Mike Gibb's new short play (with music) with a cast that includes Allan Scott-Douglas and Michelle Bruce from the Outlander The Musical CD.
Performances at 2pm, 3pm and 4pm in the historic Drum Aisle of St Nicholas Church. Admission is free
DIANA GABALDON BOOK SIGNING Courtyard of St Nicholas Kirk between 12.00 and 1.00pm
I'll be around most of the day, so hope to see lots of you there!