---
Note that my blog post below about availability of audiobook, ebook and other editions of my novels and short stories is from December, 2010 and is (obviously!) OUT OF DATE. However, my discussion of the complexities of the publishing industry—and the constantly changing availability of a specific edition or format of one of my books—might still be of interest.
The best way to determine if a specific edition or format of one of my books is available—and you are NOT comfortable doing a web search on your own—is to visit your local independent bookstore and to ask their personnel. Thanks!
---
December 9, 2010
There's been a lot of discussion lately about availability issues:
Why can't you get an unabridged audiobook of THE FIERY CROSS or A BREATH OF SNOW AND ASHES?
Will THE EXILE be available as an audiobook?
Will there be Large-Print editions available of the OUTLANDER series of novels, the Lord John series and OUTLANDER short fiction?
Why can't you get "OUTLANDER:The Musical" on audio CD from amazon.co.uk?
I don't have answers to all the availability questions, of course, because I don't actually publish and distribute everything out of my garage <g>; I have contracts with a great many different publishing companies around the world (and in multiple different languages), all of whom deal with those issues in their own territories, and usually I have No Idea.
1.) Why can't you get an unabridged audiobook of THE FIERY CROSS or A BREATH OF SNOW AND ASHES?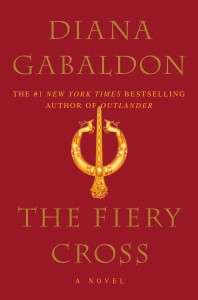 OK, follow me like a leopard here. Back in the day, nobody had any idea whether audiobooks would amount to anything; it was new-fangled technology, nobody was familiar with the concept as anything beyond the material for the blind that the Library of Congress's Talking Books program does, nobody was sure it would ever be worth anything—and it cost a lot to produce one.
That being so, when Bantam-Dell (a subgroup of my US publisher, Random House) contracted with us (me and my agent) fifteen (or so) years ago for audiobooks, they did so very cautiously—and only for the rights to make an abridged version, because the thought of anyone being willing to listen to (let alone pay for) an unabridged version of something the size of OUTLANDER was laughable.
Now, in my naivete, I had no idea that "abridged" actually meant, "butchered into little bloody shreds, one-quarter of which will then be scraped up into a pile and kind of patted into the rough semblance of a story, rather like a sculpture made of raw hamburger."
I did, though, insist on keeping the Unabridged rights, having faith that at some far distant date, someone might be willing to take the gigantic gamble of recording the Whole Thing, down to the last word.
Bantam-Dell fussed about this—publishers hate to give up any rights, whether they know what to do with said rights or not; they might come in handy someday, after all—but eventually gave in, since they were positive that the unabridged rights were worthless.
They did, however, insist on a non-compete clause in the contract, just in case: to wit, that if anybody did ever do an Unabridged version, this version could not be sold in retail outlets where the abridged version was sold. (They reasoning—correctly—that if anybody saw the two versions side by side on a shelf, they'd instantly realize that three-fourths of the story had been omitted from the abridged version. (Not kidding, here; the FIERY CROSS abridged audiobook contains only 23 % of the original book's text. Just so you know…))
OK. A few years later, I happened to meet some representatives of Recorded Books, Inc. (well, actually, I engineered an "accidental" meeting at a librarians conference, having ascertained that Recorded Books was the biggest of the only two companies who even did unabridged books), got them interested (though they were a little goggle-eyed at the sheer tonnage involved; OUTLANDER was the longest book they'd ever done), and… well, Bob's your uncle.
Recorded Books has done a magnificent job with the Unabridged audiobooks. They found marvelous readers (the hugely talented Davina Porter, who reads the OUTLANDER novels, and the equally talented Jeff Woodman, who does the Lord John books), and have risen nobly to the challenge of getting the audiobook versions produced more or less simultaneously with the print versions (no easy job, given how close I always come to the pub date in delivering the manuscript).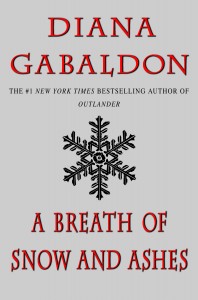 Now, going back to the original Bantam-Dell contract for the abridged audiobooks: my agent (who was an excellent agent) reasoned that since no one actually knew how the audiobook market might develop, he didn't want to lock me into the usual sort of semi-permanent contract that we'd do for a book (i.e., you essentially grant the publishing company the right to publish your book as long as it sells. Only if it stops selling and they allow it to go out of print, can you get back the rights to it), and instead sold the audiobook abridged rights on a ten-year license. Meaning that we gave Bantam-Dell the right to produce an audiobook of each title (six books were covered under the original contract; they weren't all written then, but were all under contract as print titles) for a period of ten years, from the date of publication of each title. So the license for VOYAGER, for instance, expired in 2004, as that book was originally published in 1994.
We could then, if we liked, renew the license for an additional period. Well, having seen what a travesty the abridged books are (meaning no offense either to the reader or the production team; there's just no way of doing a good version of a book from which you've essentially omitted every other word), the answer was a resounding NOT, and we've been canceling those licenses the instant they come due. (Bantam-Dell is allowed a certain period post-cancellation during which they can still sell whatever stock they have on-hand, but they can't produce any more.)
Result being that we've pretty much stamped out the abridged versions of OUTLANDER, DRAGONFLY IN AMBER, VOYAGER, and DRUMS OF AUTUMN. But THE FIERY CROSS was published in 2001. Which means that its license doesn't expire until 2011. Which (hahahaha!) happens in a month!! So we'll get to cancel that license Right Soon, leaving only ABOSA to go.
But that's the reason why you haven't been able to get FIERY CROSS or A BREATH OF SNOW AND ASHES from Audible.com—it's considered a retail outlet that sells the abridged versions. [I'm putting the following in caps, because I keep telling this to people, but they often don't seem to notice or understand:]
YOU CAN GET THE UNABRIDGED VERSIONS OF FIERY CROSS AND ABOSA!! You just can't (yet) get them from Audible.com, which is most people's default supplier of audiobooks. You totally can either rent or buy the unabridged audio of both books from Recorded Books. But I admit that it will be much more convenient for everyone when the license on ABOSA expires as well, and all the Unabridged audios can be found on Audible.com. (You can get AN ECHO IN THE BONE and all the Lord John books in Unabridged form on Audible now, because none of these books were covered in the original contract with Bantam-Dell, and thus no abridged version of them has ever existed.
2.) Will THE EXILE be available as an audiobook?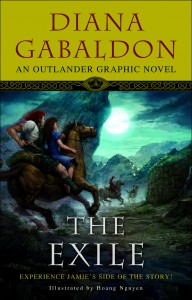 Well, no, I really don't think there will be an audio version of THE EXILE, unless it's made by Recording for the Blind or the Talking Books program (in which the reader describes all illustrations for the benefit of a visually impaired reader). This book is a graphic novel. And while I was quite surprised to discover that there are a lot of people (judging from the one-star reviews on Amazon.com) who have never heard the term "graphic novel" (and didn't bother to find out what "graphic novel" means, or to scroll down far enough in the product description to see what it meant—and thus were shocked—shocked!—to find that it was A COMIC BOOK! (and thus concluded that this was calculated fraud on my part… people are Very Strange on occasion)). A graphic novel is, in fact, a comic book for adults, but it is also a novel told largely in visual images.
Ergo, kind of hard to do as an audiobook, I mean. Reading just the dialogue part of the script might not be all that effective.
3.) Will there be Large-Print editions available of the OUTLANDER series of novels, the Lord John series and OUTLANDER short fiction?
Large-Print editions. Well…. let's just think about the logistics here for a minute, OK? How much bigger is Large-Print than the normal typeface? 50% bigger? Twice as big? Let's say 50%, just as a start.
OK. OUTLANDER runs about 700 pages, and that's the shortest book in the series, at 305,000 words. (FIERY CROSS is the longest, at 508,000, but A BREATH OF SNOW AND ASHES runs it a close second, at something like 498,00. Those two books are at the physical limit of how many pages you can reasonably bind between covers.) To get all of ABOSA into one volume, the German publisher was obliged to print it on "Bible" paper, the paper-thin, tough paper they print Bibles on.
So. Multiply those lengths by 1.5, and we're talking something the equivalent of 750,000 words (just the space that many words would take up, I mean). Chances are that you'd need even more space than that, because of the leading and kerning issues (those are the spaces between letters in a word and between the lines of print—all of which need to be magnified in a Large-Print book), but leave that aside for now.
Even OUTLANDER, therefore, would have to be published in two volumes, for a Large-Print edition, and several of the later books in the series would need to be done in three-volume sets. The cost of producing a book of X size remains the same, whether it contains all the words in the original text, or only one-half or one-third of them.
So the cost of producing a Large-Print edition of the OUTLANDER novels would be 2-3 times the cost of the normal book, the set would sell for 2-3 times the cost of the original ($50 to $75)—and how big a market is there for such an edition? (There's also the consideration that many people who might need a Large-Print edition would have problems physically holding books of this size.)
Beyond these economic considerations, there's the simple fact that if you have an ebook reader, the thing is light and easy to hold—and you can adjust the print on your digital screen to be whatever size is comfortable for you, including sizes MUCH bigger than any printed Large-Print version could offer.
[Ebook readers include Kindles (ebook by Amazon), Nooks (Barnes & Noble's ebook), Apple iPads or one of the tablets running the Android operating system. Applications (or "apps") are also available to read ebook versions of my books on smart phones (Apple iPhones and phones running the Android operating system) as well as for most computers and will give you the capability of enlarging the type on the display as you read my books.]
Anyway. Bottom line is that the only one of my books ever done as a Large-Print edition in print was LORD JOHN AND THE PRIVATE MATTER, which I wrote under the delusion that it was a short story. <g>
4.) Why can't you get "OUTLANDER: The Musical" on audio CD from amazon.co.uk?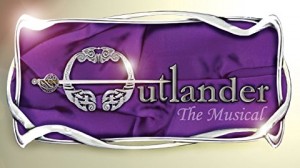 Amazon.co.uk… (which is the Amazon online store for the United Kingdom sales area.) Well, now here I'm just reporting, because I have no relations with Amazon.co.uk myself. I do have some correspondence with Amazon.com (the Amazon online store for the U.S.A.), and everything seems to be running very well there. However, Mike, the guy who handles the "OUTLANDER: The Musical CD" sales for the U.K., established an Amazon.co.uk account for it, but hasn't had as much luck in coming to an agreement with them regarding price, or in having his other concerns addressed. So he's asked me to let y'all know that he's suspended that account for the time being, but that if any of you in the U.K. or Europe want CDs, you can get them here.
(Note from Diana's Webmistress on February 28, 2018: "Outlander: The Musical" on CD is apparently no longer available for purchase as a new item. This musical production should not be confused with the Starz Outlander TV series.)
Oh! This isn't really an availability issue, but fwiw, I was notified this morning that all my e-books are now available on google books. No idea whether this is a Good Thing or not <g>, but there they are.
---
This webpage was last updated on Wednesday, February 28, 2018, at 2:14 a.m. by Diana's Webmistress.