---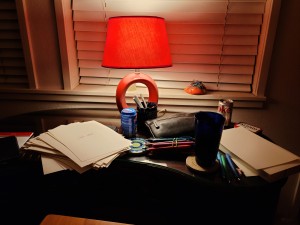 It must be a dull week in Trollsville. I went by the Poisoned Pen (that's my local independent bookstore, for those unfamiliar) yesterday afternoon to sign the latest pile of backlist titles (the Pen handles all my autographed books, and has done so for the last twenty-odd years) and while chatting with Patrick, the manager, was surprised (and displeased) to hear that some folk with too much time on their hands were posting intemperate messages on tumblr, claiming that the Poisoned Pen is a scam outfit, that they don't really provide signed books, and that people who have pre-ordered BEES won't get their copies signed.
<sigh>
This is a shot of my small office tonight (above image). I'm up in Flagstaff, in my old family house, just for the day. And what am I doing, in the middle of the night?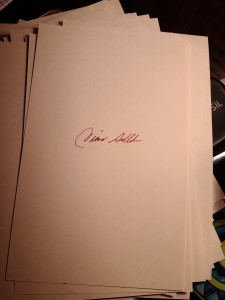 Signing tip-sheets. A tip-sheet (see image at left) is a loose sheet of paper, which will eventually be bound into a book as it's produced. It's a method of dealing with huge numbers of books, where shipping the actual books to and fro would be both expensive and laborious. I do this now and then—on request—for some of my publishers (in the US, the UK (including Australia and New Zealand(, and Canada, on this go) when a new book is coming out.
Normally, I might sign something like a thousand tip-sheets for a publisher. This time…
The UK asked for 8,000 tip-sheets.
Canada asked for a modest 2,000.
The US asked for 17,000.
(That's 27,000 signatures, for those who are adding them up.)
This is NOT what I do for the Poisoned Pen. The Pen is an old-fashioned bookstore, that caters to people who truly love books, and to whom it makes a substantial difference as to whether a book was personally handled and signed by the author, rather than having a tip-sheet bound in ex post facto, so to speak.
I generally go by the Pen once or twice a month, and sign (and personalize, if requested) their orders. This usually amounts to 4-500 books at a time.
When I have a new book out, it's all hands on deck, because I'm signing several thousand copies, and doing that requires a team of five people helping me: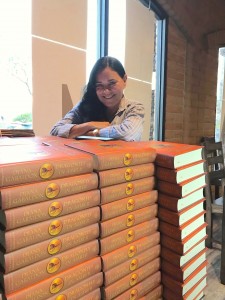 Person 1 opens the cartons of books, dumps them and stacks the books at one end of the table.
Person 2 takes a book from the stack, opens it and finds the second title page (the one with both the book's title and my printed name and a small, evocative photo). They then fold the dust jacket over the copyright and first title pages, so the jacket serves as a book-mark, allowing
Person 3 to open a book immediately to the right page. (This is called "flapping." ) The flapped books are restacked next to—
Person 3. This person grabs a flapped book, opens it, turns it at a ninety-degree angle (because I sign uphill, not side to side) and sets the open book in front of me.
I sign it (fast), shut it and shove it toward—
Person 4, who grabs the hurtling book (you want a smooth surface for this, preferably wood, because plastic-topped tables build up a terrific charge of static electricity if you send books whizzing across them in large quantities, and people get shocked) and places it neatly on a growing stack.
Person 5 takes the stacks and puts them back into the original cartons (having run down to the other end of the table every other minute in order to retrieve said cartons), tapes the cartons shut and stacks them. There's limited room in the backroom of a bookstore, and if you're dealing with huge quantities, it's lots easier to move the cartons from place to place than it is to load the books onto a cart and drive them to distant shelving, unload and come back. (This is also how you move a lot of books to an offsite signing/event venue.)
I can sign roughly 500 books per hour, doing this with help.
Awright. That's how it works. Now—thanks to you all who've been ordering the book!—BEES is going to be kind of a big thing, apparently, in terms of copies needing to be signed, moved, etc.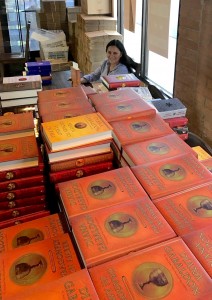 I don't know how many copies of of BEES have so far been ordered from the Poisoned Pen (let alone how many they'll eventually sell), but they had 20,000 pre-orders by August (thank you!!), and at that point, the Pen's owner put out word that while I will sign all the books people want signed, there's a limit (physically) to how many I can sign by December 10th— that being the latest shipping date on which you might reasonably expect the book to be delivered by Christmas 2021. That limit is 20,000. (See, I can't sign books until they arrive at the bookstore, which won't be until November.) Ergo, if you want a signed book, handled by me personally <g>, you can certainly have it—but if you order it now, I might not be able to sign it in time for it to be shipped for Christmas delivery (especially not this year, when shipping and delivery is a lot bigger and more complex in every area of business). And I can't personalize them, sorry. (If you really want a personalized book, just wait until January or February, when we're not working under a shipping deadline.)
As for the tip-sheets… those are sent back to the publisher when they're done [after I sign them]. The publisher decides which bookstore accounts will get the books with signed tipsheets; I have no control over that and no idea where the books may end up.
But if you see a dump (that's what the cardboard stands set up by the cashier's desk are called) or other display of BEES in a chain bookstore that says, "Signed Books"—that's what they are. Books with a signed tipsheet bound in.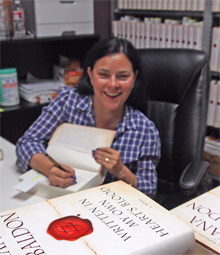 Now, to some people, it won't make the slightest difference whether their signed book has a tipsheet (signed by me en masse), or was signed by me on the second title page (if you want to tell the difference easily, that's how; the tip-sheets are blank, aside from my signature), as a complete book. To some people, it does make a substantial difference, and these are the Poisoned Pen's book-loving customers.
I've known the Pen and its proprietor and managers for more than thirty-five years; I've been coming by to sign books for them for more than twenty of those years. (And no, there's no extra charge for an autographed book.)
So, if you should happen to see any nasty little trolls grumping away to each other under some dank bridge… don't bother dropping garbage on them; they make plenty of their own.
P.S. If you were keeping track…. 27,000 tip-sheets, plus 20,000 books is 47,000 signatures. Just for fun, try signing your name 25 times on a sheet of paper and see what it feels like… <g>
P.P.S. In the photos above with me in them, I am signing DRAGONFLY IN AMBER in hardcover and WRITTEN IN MY OWN HEART'S BLOOD when they came out in hardcover in the past. As I say, I do it pretty much all the time.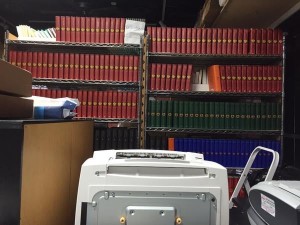 The image at left shows many copies of my books waiting to be signed by me in the storeroom at the Poisoned Pen.