---
Sunday, June 2, 2019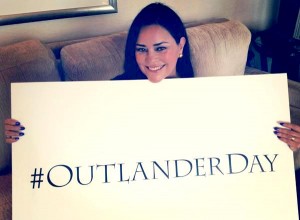 Goodness….it's #WorldOutlanderDay! People keep saying to me, "Did you ever think this would happen, when you started writing your book in 1988?" Well, no…
I thought that I'd write this whatever-it-was for practice, and then write a Real Book—perhaps a crime novel, as that's what I mostly read at the time. I thought I could probably get that one published, eventually, and if so, then I'd write crime novels on the side (while doing my university job) for about twelve years, at which point I might be good/lucky enough to get onto the NYT Bestseller List. At that point (I thought), I'd quit my job and become a full-time writer.
So I thought I'd succeed, eventually—but I sort of didn't plan on anything like this…
SO—THANK YOU TO ALL OF YOU! Because we wouldn't be here without your kind appreciation and support.
AND SO….what are y'all planning to do to celebrate #WorldOutlanderDay?
a) Re-read OUTLANDER
b) Re-read the whole series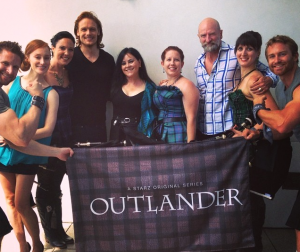 c) Watch OUTLANDER Season One on Netflix
d) Watch OUTLANDER Season 4 on DVD/Blu-Ray/Collector's Edition
e) Drink whisky (mind, you can do that while doing any of the above)
f) Have the White Sow tattooed on some appropriate part of your anatomy
g) (if female) Make Claire's Red Dress and get your husband to take you out to dinner in it (remember to bring a Large Fan)
h) (if male) Learn how to do a Scottish sword-dance and do it for your wife if she'll wear the Red Dress
i) Eat haggis (it comes in a can, if you're short of sheep stomachs)
OR, you know, just relax and enjoy the following two excerpts, which just go to show that the more things change, the more they stay the same, and that it's Really Good to have a healer along on the journey.
THEN…
[Excerpt from OUTLANDER, Copyright © 1991 by Diana Gabaldon]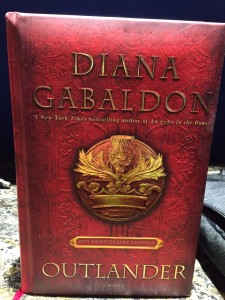 Apparently he was feeling better. I smiled, despite myself, but spoke firmly nonetheless. "You be quiet," I said, "or I'll hurt you." He gingerly touched the dressing, and I slapped his hand away.
"Oh, threats, is it?" he asked impudently. "And after I shared my drink with ye too!"
The flask completed the circle of men. Kneeling down next to me, Dougal tilted it carefully for the patient to drink. The pungent, burnt smell of very raw whisky floated up, and I put a restraining hand on the flask.
"No more spirits," I said. "He needs tea, or at worst, water. Not alcohol."
Dougal pulled the flask from my hand, completely disregarding me, and poured a sizable slug of the hot-smelling liquid down the throat of my patient, making him cough. Waiting only long enough for the man on the ground to catch his breath, he reapplied the flask.
"Stop that!" I reached for the whisky again. "Do you want him so drunk he can't stand up?"
I was rudely elbowed aside.
"Feisty wee bitch, is she no?" said my patient, sounding amused.
"Tend to your business, woman," Dougal ordered. "We've a good way to go yet tonight, and he'll need whatever strength the drink can give him."
The instant the bandages were tied, the patient tried to sit up. I pushed him flat and put a knee on his chest to keep him there. "You are not to move," I said fiercely. I grabbed the hem of Dougal's kilt and jerked it roughly, urging him back down on his knees next to me.
"Look at that," I ordered, in my best ward-sister voice. I plopped the sopping mass of the discarded shirt into his hand. He dropped it with an exclamation of disgust.
I took his hand and put it on the patient's shoulder. "And look there. He's had a blade of some kind right through the trapezius muscle."
"A bayonet," put in the patient helpfully.
"A bayonet!" I exclaimed. "And why didn't you tell me?"
He shrugged, and stopped short with a mild grunt of pain. "I felt it go in, but I couldna tell how bad it was; it didna hurt that much."
"Is it hurting now?"
"It is," he said, shortly.
"Good," I said, completely provoked. "You deserve it. Maybe that will teach you to go haring round the countryside kidnapping young women and k-killing people, and…." I felt myself ridiculously close to tears and stopped, fighting for control.
Dougal was growing impatient with this conversation. "Well, can ye keep one foot on each side of the horse, man?"
"He can't go anywhere!" I protested indignantly. "He ought to be in hospital! Certainly he can't—"
My protests, as usual, went completely ignored. "Can ye ride?" Dougal repeated.
"Aye, if ye'll take the lassie off my chest and fetch me a clean shirt."
AND NOW…
[Excerpt from GO TELL THE BEES THAT I AM GONE, Copyright © 2019 by Diana Gabaldon]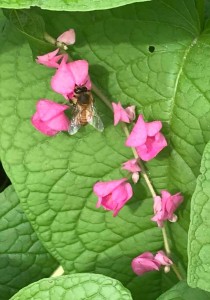 Jamie and Brianna came back in late afternoon, with two brace of squirrels, fourteen doves, and a large piece of stained and tattered canvas which, unwrapped, revealed something that looked like the remnants of a particularly grisly murder.
"Supper?" I asked, gingerly poking at a shattered bone sticking out of the mass of hair and slick flesh. The smell was iron-raw and butcherous, with a rank note that seemed familiar, but decay hadn't yet set in to any noticeable degree.
"Aye, if ye can manage, Sassenach." Jamie came and peered down at the bloody shambles, frowning a little. "I'll tidy it up for ye. I need a bit o' whisky first, though."
Given the blood-stains on his shirt and breeks, I hadn't noticed the equally stained rag tied round his leg, but now saw that he was limping. Raising a brow, I went to the large basket of food, small tools, and minor medical supplies that I lugged up to the house site every morning.
"From what's left of it, I presume that is—or was—a deer. Did you actually tear it apart with your bare hands?"
"No, but the bear did," Bree said, straight-faced. She exchanged complicit glances with her father, who hummed in his throat.
"Bear, "I said, and took a deep breath. I gestured at his shirt. "Right. How much of that blood is yours?"
"No much," he said tranquilly, and sat down on the big log. "Whisky?"
I looked sharply at Brianna, but she seemed to be intact. Filthy, and with green-gray bird-droppings streaked down her shirt, but intact. Her face glowed with sun and happiness, and I smiled.
"There's whisky in the tin canteen hanging over there," I said, nodding toward the big spruce at the far side of the clearing. "Do you want to fetch it for your father while I see what's left of his leg?"
"Sure. Where are Mandy and Jem?"
"When last seen, they were playing by the creek with Aidan and his brothers. Don't worry," I added, seeing her lower lip suck suddenly in. "It's very shallow there and Fanny said she'd go and keep an eye on Mandy while she's collecting leeches. Fanny's very dependable."
"Mm-hm." Bree still looked dubious, but I could see her fighting down her maternal impulse to go scoop Mandy out of the creek immediately. "I know I met her last night, but I'm not sure I remember Fanny. Where does she live?"
"With us," Jamie said, matter-of-factly. "Ow!"
"Hold still," I said, spreading the puncture wound in his leg open with two fingers while I poured saline solution into it. "You don't want to die of tetanus, do you?"
"And what would ye do if I said yes, Sassenach?"
"The same thing I'm doing right now. I don't care if you want to or not; I'm not having it."
---
Visit my GO TELL THE BEES THAT I AM GONE webpage for more information and access to over fifty Daily Lines (aka 'excerpts').
---
And thank you to Laura Mackle for the lovely bee!
You are welcome to share the URL (web address) of this blog entry. But please do not copy and paste any or all of the text and post it elsewhere, since it is my copyrighted material. Thank you. Instead, copy and paste this URL to share:
http://www.dianagabaldon.com/2019/06/world-outlander-day-2019/
If you decide to post a public Response (aka web comment) discussing this blog entry, note that comments are moderated, which means they don't appear until and unless approved. This could take awhile, depending on how busy things are.
This blog entry was also posted on my official Facebook page. Yes, you likely have to have a Facebook account to view it there. No, sorry—neither my Webmistress nor I can change that. <g>
---