---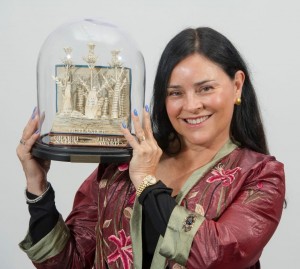 A few weeks ago, I travelled to Scotland to receive a special "International Contribution to Scottish Tourism" award at VisitScotland's Thistle Awards ceremony, which I was Very Honored (!) to receive for services to Scottish Tourism (VisitScotland being kind enough to credit me with—doubtless single-handedly <cough>—increasing Scottish tourism by 67 percent by means of "the Outlander Effect.")
Mind you, the Outlander Effect is you guys, my readers and fans of the Outlander TV series, so this is really your award, as well!
Many, MANY thanks to all the great people, from Hamish, Louise, Jennifer and Lord Thurso from VisitScotland, to the staff of Hopetoun House, to Jamie Crawford and Marie from Publishing Scotland, and all the lovely journalists, bloggers and photographers—and, of course, the fans (Viva Barcelona!)—who made the week so memorable—and last but by NO means least—the wonderful people of Scotland!
What Happened In Scotland…
These news media aricles give some details about my recent visit to Scotland, the award, and other events:
"Diana Gabaldon: On Superfans, Whisky and the 'Miracle' of Outlander," by Alison Campsie for The Scotsman. Explores the effects of Outlander on a town, as well as some 'superfans' from Barcelona. (Note from Diana's Webmistress: I LOVE this article!) Published on March 17, 2019.
"JACOBEAN QUEEN: Outlander Author Diana Gabaldon Hits the Tourist Trail and Visits Sam Heughan and Caitriona Balfe's Filming Locations Ahead of Season Five," by Matt Bendoris for The Scottish Sun. "Fans mobbed the American as she visited Scottish locations ahead of season five of the hit telly show." Published on March 18, 2019.
"Outlander's Diana Gabaldon: The Story of the First Lady of Lallybroch," by Lorraine Wilson for The National. Published on March 23, 2019.
"Outlander Author Receives Top Tourism Award, a press release from VisitScotland. Released on March 14, 2019.
"Outlander author Diana Gabaldon to be honoured in Edinburgh," by Brian Ferguson for The Scotsman. Published on March 13, 2019.
Click here to read/download a copy of "The Outlander Effect and Tourism" by VisitScotland.
"Thistle Be Our Night," by Anne Sykes for VisitScotland. This article lists the fifteen individuals and businesses that received a 2019 Thistle Award for promoting Scottish tourism. Published on March 15, 2019.
"Outlander author Diana Gabaldon calls for greater protection of Scottish heritage sites," by Brian Ferguson for The Scotsman. 'Outlander creator Diana Gabaldon today called for greater protection for Scottish heritage sites from the impact of over-tourism and threats from housing developments.' Published on March 15, 2019.
---
VisitScotland and the Thistle Awards
For those not familiar with VisitScotland, it is the official national tourism agency for Scotland, "an executive non-departmental public body of the Scottish Government," according to Wikipedia. Tourism is an important part of the Scottish economy, and VisitScotland maintains a network of tourism websites with resources for visitors including the main webpage, VisitScotland.com.
The Thistle Awards are given by VisitScotland to recognize the best businesses or individuals who benefitted Scottish tourism each year.
---