---
This post was made by Diana's Webmistress: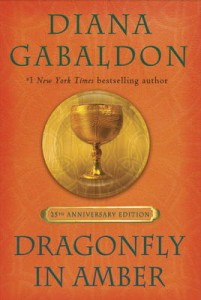 A new special hardcover edition of DRAGONFLY IN AMBER was released in the U.S.A. and select global markets on October 24, 2017, to celebrate the 25th anniversary of its initial publication. It features a beautiful new cover, a new introduction by Diana and a reader's group guide. DRAGONFLY is the second major novel in Diana's best-selling OUTLANDER series. The popular Starz Outlander TV series is based on these novels.
An event with Diana to celebrate this new edition of DRAGONFLY will be held TODAY, Sunday, November 5, 2017, in Scottsdale, Arizona, at the Doubletree Resort, beginning at 2:00 p.m. The event is sponsored by the Poisoned Pen Bookstore! Diana Gabaldon will give a talk for about 40 minutes, then answer reader's questions from the audience. A book signing with Diana will follow the Q&A session. The event is open to the public, and tickets are not required. Note that it is FREE to attend Diana's talk, which begins at 2 p.m., and the Q&A session afterward.
To join Diana's book signing line after her talk and Q&A session, please note that a purchase of this new 25th anniversary edition of DRAGONFLY IN AMBER from the Poisoned Pen is required for each person in the signing line, and each person in the signing line may also bring up to 3 books from home for Diana to sign, too. Copies of DRAGONFLY 25th will be available for purchase at the event for the signing line. Purchases of this new book from other vendors or bookstores will NOT be allowed for entry into the signing line. A quick photo with Diana will be allowed at her discretion and as time allows, says the Pen.
Come and meet Diana as she signs your new book! All who stay for the signing line and purchase the new book will have their books signed in person by Diana, both those who live locally and those who have come from out of town!
Copies of this new edition of DRAGONFLY pre-signed by Diana are available 'to go' for those who can't stay for the book signing line.
Free valet parking is provided for this event, as well as the usual do-it-yourself surface parking. Doors open at 1 p.m., and it will be open seating. Also, a cash bar will be provided by the resort.
Click for the latest details about today's event from the Poisoned Pen's event calendar!
For more information on all of Diana's appearances, including this one, please see Diana's official appearances page. And please check it often for updates and new events!
---
Signing Copies of DRAGONFLY 25th At The Pen!
Below is a fun "Where's Waldo?" photo of Diana signing pre-ordered copies of the new 25th Anniversary edition of DRAGONFLY IN AMBER and some of her other titles at the Poisoned Pen in late October! Photo credit: Poisoned Pen bookstore.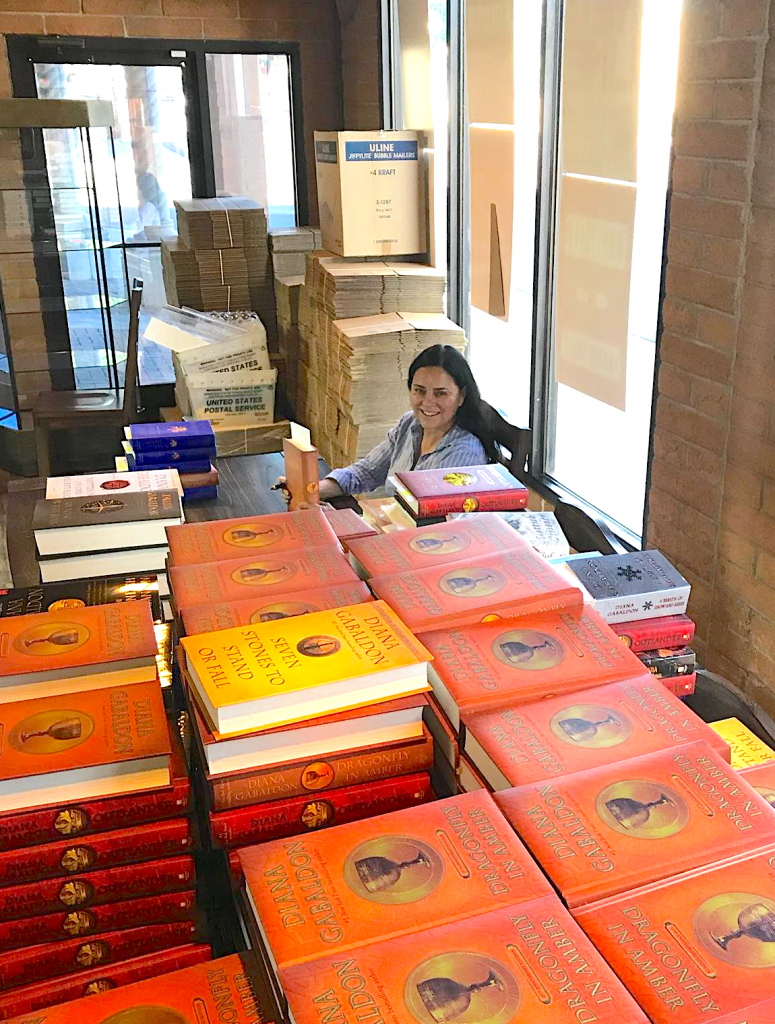 ---
Copies Available By Mail, Too!
Can't attend the event on November 5? But you want a signed copy for yourself? Or as a holiday gift for someone special? Not to worry…
Click here to buy a new copy of the 25th Anniversary Edition of DRAGONFLY IN AMBER from the Poisoned Pen, signed by Diana!
The Pen's information and purchasing link above is for the edition published by Diana's U.S. publisher, Random House (Delacorte).
There is no extra charge for Diana's signature! And you may request a short line such as "To Jill," also written by Diana. The book is sold at regular list price, and you will need to pay for shipping. The Pen ships anywhere in the world! Please allow extra time which may be needed for signing and personalizing your book.
New copies of all of Diana's books, signed by her, in multiple editions are always available for purchase from the Pen both online and in person.