---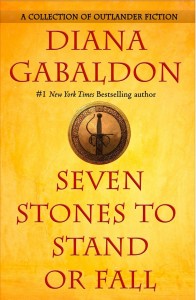 Alrighty, then! Penguin Random House (U.S. and U.K.) and I are delighted to announce that SEVEN STONES TO STAND OR FALL comes out June 27th!
(For those who've just stopped by…this is NOT (repeat NOTNOTNOT) Book Nine. SEVEN STONES is a collection of "Outlander short fiction"—i.e., novellas. (Not all that short, either, but these things are relative…. the individual novellas run from 30,000-50,000 words each, so this is a fairly substantial book.)
So, to introduce the book, every week we'll have #DailyLines (excerpts) that feature a different novella, starting this week with THE CUSTOM OF THE ARMY. (Yes, we'll have other #DailyLines, too. These snippets are special for the new book.)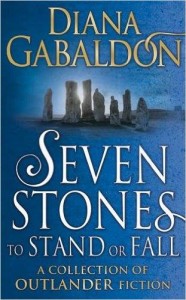 Social Media Hashtags: #DailyLines, #SevenStonesToStandOrFall, #TheCustomOfTheArmy, #LordJohnGrey, #Quebec, #TheFrenchArentTheOnlyThingToLookOutFor
Straightening up from the gunwale, the Indian caught Grey's eye and smiled.
"You be careful, Englishman," he said, in a voice with a noticeable French accent, and, reaching out, ran his fingers quite casually through Grey's loose hair. "Your scalp would look good on a Huron's belt."
This made the soldiers from the boat all laugh, and the Indian, still smiling, turned to them.
"They are not so particular, the Abenaki who work for the French. A scalp is a scalp—and the French pay well for one, no matter what color." He nodded genially to the grenadiers, who had stopped laughing. "You come with me."
Click here to read more about the stories in SEVEN STONES TO STAND OR FALL.
Or click here for online buying links.
---
Also posted on my official facebook page.