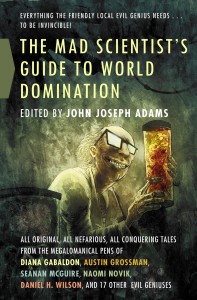 My apologies! Evidently I confused this afternoon's live #Torchat on Twitter for THE MAD SCIENTIST'S GUIDE TO WORLD DOMINATION, with the live (fleshly) appearance at The Poisoned Pen for that book on February 25th!
The chat this afternoon will be from 4-5 PM EST, and will feature John Joseph Adams, editor of the anthology, Seanan McGuire, Austin Grossman, and me (all contributors of stories in the book). To follow and participate in the chat, when you go on Twitter, search on the hashtag #Torchat; that will show you all the messages with that hashtag. (As the chat progresses, you'll need to refresh the search from time to time to show new messages, aside from ones that aren't replies to you.)
On the _25th_, John Joseph Adams and I will be doing a joint talk/booksigning at the Poisoned Pen, at 7 PM. Hope to see you there! (Psst…the Pen tells me they've just got a bonus shipment of A TRAIL OF FIRE–a return from the UK publisher–and so now have a hundred or so copies unspoken for.)
Here's the link for the Poisoned Pen appearance!